Prof. Ortmeier at the Hannover Messe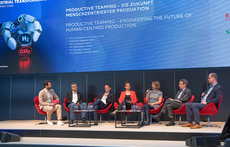 25.04.2023 -
Together with experts from the CHIM research and innovation network, the Fraunhofer IFF and the Digital Agency Saxony, Prof. Ortmeier discussed at the Hannover Messe how humans and machines can work together as teams in the future. On the Industrial Transformation Stage, the panelists explained how the vision of "productive teaming" of intelligent machines and human specialists. Productive teaming has a wide range of applications in manufacturing, including individualised medical products, small batch production and circular economy.
You can find the recording of the panel here: https://www.hannovermesse.de/veranstaltung/productive-teaming-die-zukunft-menschzentrierter-produktion/exp/104567.
More information on the CHIM research and innovation network and Productive Teaming at https://forschungsnetzwerk-chim.de/.